For Sale
1969 Corvette Coupe
Click Image for More
Price: $95,000
1969 corvette stingray couple
matching numbers
4 speed manual
427 390 HP
personalised plate included
excellent condition inside and out
Lots of receipts from USA and NZ for work done.
10000 miles on full body off restoration
For all enquiries please phone Brian on 0272776898
Personalised Plates - CHEVC6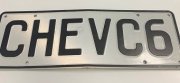 Click for Larger Image
Price: $400.00
Personalised Plates for Sale:
                 CHEVC6
All enquiries please contact Dane Wells directly.
Danes contact: Mobile - 021 533 093
Or place an email enquiry via the enquiry button below.